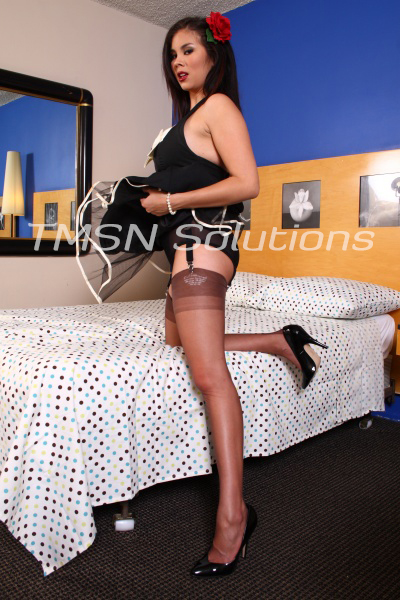 Gianna 844-332-2639 ext 355
Aaron had no idea what he was getting into when he approached me and told me about his feminization fantasies. "I want to be a woman, Mistress Gianna. Will you help me?" I told him that he would have to be dedicated and fully pass as a female. He assured me that he was very serious about working with me. We'll see about that.
His first attempts at feminization were amusing. After hours of training him on how to dress, act, and speak… I took him out on his first test. He followed me around town and clearly needed additional training. His dress didn't really match his accessories and he struggled to walk in heels. I could also tell that his wig wasn't secured properly. Due to this failed attempt at passing, I introduced him as I saw fit when we bumped into my girlfriends.
"Girls, meet my new sissy in training Aaron. As you can see… he needs some work!" 
I saw Aaron sink in his heels when he heard me introduce him. He needed to know that he must become better at being a woman before he earned a female name and a proper introduction. I took him to a classy upscale restaurant for lunch and asked him to check his nails. He instinctively turned his palm towards him and curled his fingers as a man would. I slapped his hand in response and showed him how women properly review their nails… with their palms facing away and their fingers stretched out straight. After lunch, we went to the nail salon and I walked him through the proper steps of getting a decent gel manicure.
He will learn to get used to common feminine upkeep routines like this. 
We returned home when I brought out a whiteboard with code words written all over it. "Aaron, you will be expected to complete these actions whenever you hear me say any of these words. Understood?" He nodded eagerly. I could tell that he would do anything to become a passable woman. The code words were listed as such:
Face Check: Pull out your compact and review your make-up. Make sure it is perfect at all times. I will not hesitate to ruin it and force you to walk around with a messy face if you are not diligent about checking yourself.
Hair: Carry a comb with you and some anti-frizz serum to ensure that all your strands are perfectly in place. Also, carry a hair tie with you and pull your hair back if it becomes too unruly.
Dress: Always iron your dress before you leave your house. Make sure it sits properly on your body and is not too revealing. If I see any wrinkles, I will tear it off and force you to buy a brand new one immediately.
Voice: You will always maintain a feminine voice. Your tone will be elegant and you will speak like a classy lady always. If I hear you slip up and sound like your old male self, then I will force you to gargle disgusting cheap vodka until you learn to sound like a true lady.
Hosiery: There will never be any tears in your hosiery. Your pantyhose will always fit properly and never slouch down your legs. You will be expected to have your pantyhose pulled up properly at all times. Failing to do so will result in me tearing them with my nails so that you have to walk around with torn pantyhose like a trashy whore.
Skin: You will shave and wax your entire body. If I see any hair on your legs, arms, or upper lip then I will take you to get it lasered off which will be expensive and painful. Not only will you remain hairless, but you must always moisturize your skin with high-end lotion.
Nails: Your nails will always be properly manicured and polished. If I see any chips, then your hands will get slapped in public. You will get gel manicures on a bi-weekly basis.
Aaron seemed overwhelmed by all of this. I grabbed his chin and forced him to look up at me. "Failure to adhere to any of these code words will result in further public humiliation. I'm talking about degrading you where you work. Posting humiliating posts on your social media accounts. Exposing you to everyone you know. I suggest you study these code words and plan out your days accordingly to ensure that you meet all of my feminization standards."
Aaron nodded and promised me that he would do everything in his power to become the best woman for me. 
He spent weeks working on perfecting his feminization attempts. I could tell that he was ready for the final step. I gave him the address to our local community college and told him to meet me there on Monday morning at 9 AM sharp. He didn't know this, but I called his current job and told them that he would not be coming back to work as he officially resigned. It was time for him to become a woman full time… meaning a new career change.
He arrived dressed beautifully in a matching pink Chanel suit. His make-up was perfect and his hair was lovely. I almost didn't recognize him. I took his hand and lead him to a classroom full of computers. I told him that I signed him up for a Receptionist Training Program. For the next six months, he will take basic computer and customer service classes so that he can start a new career as a Receptionist at a local medical facility that my Aunt owns.
The job was already secured for him. 
I handed him his new school ID badge that I requested using a photo that I snapped of him last week. The ID read "Katherine Anne Stanford" instead of his old male name. "Kathy, you have now earned the right to use female pronouns and a new name. Do not disappoint me." Kathy took her badge and entered the classroom. I stood outside and watched her sit at a computer and begin logging in using the log-in credentials listed on her orientation paperwork. She seemed to struggle with typing with her new long acrylic nails that I made her get last week. This made me chuckle. Seeing how much she has drastically improved over the past few weeks made me optimistic. I was sure that she would become the best woman that I've ever trained. Kathy did not seem like a failure to me. Actually, she was far from it.
Gianna 844-332-2639 ext 355