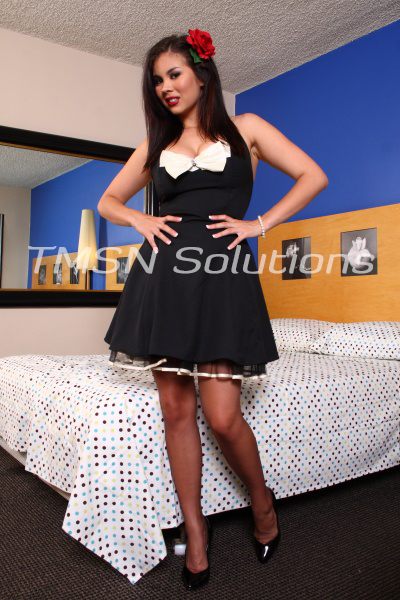 Gianna 844-332-2639 ext 355
You work at a big make-up company and are surrounded by women. It's lonely to be the only male at work. You took this job for this specific reason though. You secretly want to become a woman. Working with so many women has been tempting you to become one. You end up confiding with a close co-worker and tell her about your desire to be a woman! This news excites her so she blabs about it to her other work friends. Your feminization training begins now!
They get together and whisk you away to the company closet that's filled with all kinds of free clothes and make-up products. The company has to be prepared for product launches so they maintain this wonderful closet filled with gorgeous clothes, high-end make-up, and accessories that would make any normal girl envious. They strip you down and lock up your male clothes in a random locker. After an hour of your co-workers dressing and beautifying you, they give you an ultimatum.
"Come to the nail salon with us during lunch or kiss your male clothes goodbye!" 
This terrifies you because your wife would freak out if you didn't change back before you leave work at the end of the day. You have no choice but to go with them. You spend the rest of your morning adjusting your bra and pantyhose. Your new undergarments feel so tight and restricting. One of your co-workers walks by and catches you adjusting your bra strap. She smiles and says "Aw, is your bra bugging you? It happens to all of us. You'll get used to it! I promise!"
Her reaction suggests that you'll be learning to get accustomed to these new womanly issues. 
Lunchtime arrives and two of your co-workers swing by your desk to take you to the nail salon. The three of you are seated right away and you decide to get a french manicure with Blushingham Palace by OPI as the main color. It's a dusty rose mauve shimmer color that is classy and appropriate for work. Your co-workers are impressed with your decision. You're completely passable as a woman so the other ladies in the salon do not bat an eye when they hear your co-workers calling you Aaron which they all assume is spelled Erin.
One of your co-workers turns to you and asks "Have you enjoyed spending the morning at work as a woman instead of as a man? I wonder what your wife would think if she found out! Imagine, wearing a bra and pantyhose in front of your own wife! She would flip!" You sink in your chair a bit and feel uncomfortable answering her loaded questions with so many other women sitting near you. The nail tech places your hands in bags filled with warm paraffin wax so you try to decompress and relax. Unfortunately, your other co-worker continues asking invasive questions.
"Aaron, will you ever tell your wife about your gender identity issues?" 
You didn't think that you struggled with gender identity issues! Their questions continue to shock you. They sense how tense you are and remind you to relax. "The nail salon is the place to decrease your stress, not increase it! We know it's different being on the female side, one of the girls… but you're doing a marvelous job. Seriously, you're a real natural! We are still giggling over you telling us how tight your undergarments felt while you talked to our boss. Just imagine what your wife would say if she caught you wearing all of that!"
You notice that a woman sitting on the other side of your co-worker has been staring at your hands for quite some time. You don't want to turn to look at her since your nail tech is diligently working on your nails and you don't want to mess them up. The mystery woman asks your co-worker what nail color you chose. The nail tech picks it up and shows the woman as she compliments how pretty your hands are. You feel nervous but you can't put your finger on exactly why. All of this is so new to you. Finally, your nails are done and the nail tech requests your credit card.
"Miss Stanford? Funny, there's two of you here that have the same last name!"
With your nails now dry, you look over and see that your wife is the woman who was asking about your nail color. She smiles at you which makes your pantyhose feel even tighter. You can tell that she has no idea that you're really her husband Aaron. Tricking her so easily makes you realize how good you are at being a woman. You begin to wonder what else you can get away with… since your wife never has to find out!
Gianna 844-332-2639 ext 355
My Profiles