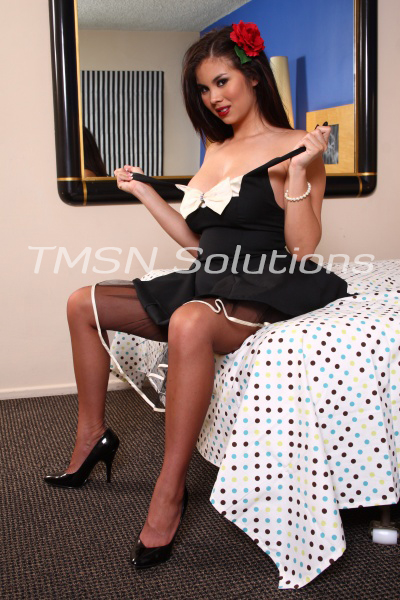 Gianna 844-332-2639 ext 355
Regular readers of my blog posts know there are many feminization stories centered around a character named "Aaron" who always ends up as a female named "Kathy". What you might not know is that there is an "Aaron" in real life who collaborates with me on these stories. The process is quite simple: all I have to do is trigger his desires for femininity — for example, reminding him that I'm excellent at doing my hair and makeup. I also wear a dress and heels over a bra and pantyhose in public any time I want, when he can't — and out pours another way he wishes he could be forced or entrapped permanently, perhaps with some humiliation along the way.
Usually, that goes very well, but sometimes he gets very nervous. When he reads my other blog posts describing myself as "sweet and conniving" or "deceiving and mind fucking", he gets very worried. Especially because he knows that I want to remove him from his marriage and make him live as a woman for the rest of his life. But it's his own fault! After all, he was the one who came to me in the beginning, begging in his fantasy to have no choice but to become a woman and to have no way to go back to being a man.
However, the more time he has spent collaborating with me, as well as filling me in on his rather deep explorations with feminization, our dynamic has become stronger and more personal, to the point that it is no longer a fantasy for me.
I truly want to use my previous experience in this realm to make him my next project and make her my next success story. I don't tell him this, of course. He won't rest easy unless at the end of every chat session I reassure him that he is safe for now, especially after the sessions when I share with him my ever-expanding knowledge of all facets of his life.
So when he reads blog posts like the two I mentioned above, he tells me he gets a sick feeling in his stomach, wondering if he has misplaced his trust in me. Now, Aaron has made great progress on developing his feminine attributes, but there are two male failings that he hasn't overcome yet.
One I have just described, his constant need for female assurance that everything will be all right. And the other is his gullibility.
So when he asks me about those posts, I just turn on the charm and innocently reply, "Oh Aaron, you know I'm not talking about you in them! Those are just to lure in new customers! My other callers pay me to write those posts!"
"You and I go too far back, Aaron. We have developed a deep level of trust between us, right?" And he is too frightened and nervous to deny it; he doesn't dare see what I am capable of doing to those who show their disbelief in me.
But Aaron…poor, sweet Aaron…for now he is just like the other boys, as gullible as can be.
His trust is not misplaced. He just doesn't understand what I consider myself entrusted to do. And that is to follow through on what he asked me to do in the beginning, to show that he can trust me to know what will truly make him happy, and to trust my methods of achieving it.
This means turning him into a woman by any means necessary, freeing him from the male shackles that make him "one of the boys" once and for all. What better way to mindfuck him than to change his gender permanently?
Just like a chess player who always has to make a sacrifice at the beginning of the game, Aaron will soon sacrifice his manhood for the sake of becoming Kathy. Forcing Aaron to become a woman has always included a degree of risk, but the risk is worth the female advantage that he will soon obtain.
Gianna 844-332-2639 ext 355
My Profiles